The Defining Decade by Meg Jay The book is broken into 3 parts- work, love and the brain & the body. The book gives advice then reinforces said advice with stories of clients that Dr. Jay has worked with.


Work
Identity Capital
- "identity capital is our collection of personal assets. It is the repertoire of individual resources that we assemble over time."
Weak Ties
- "weak ties are the people we have met, or are connected to somehow, but do not currently know well."
My Life Should Look Better on Facebook
The Brain and the Body
Forward Thinking








The Single Woman by Mandy Hale
The Single Woman, by Mandy Hale, is without question the best book I have read in a while. In the Single Woman, Mandy talks about the idea of celebrating singleness, as opposed to dreading the time. She talks about focusing on living your best list and enjoying every day. This book shifted my perspective on being single. Instead of this being a time of waiting, it should be a time of exploration and enjoyment. For the first time I was excited about being single. Every single woman should read this book!

Some of my favorite chapters:
Alone but not Lonely

The Gift of Loneliness

Why Liking Yourself is just as Important as Loving Yourself

Change your Thoughts and your Life will Follow

Faith over Fear

The Art of Waiting
The Single Woman
Overwhelmed
by Perry Noble

Overwhelmed, written by my pastor- Perry Noble- chronicles his journey through anxiety and depression. Not only is he very authentic and open, he is a great story teller. Throughout this book, there were times that I laughed, times that pushed my thinking and times that reminded me how awesome God is.
This book is great for anyone, not just those who are dealing with anxiety, depression or other mental health illnesses. Warning Signs that You're Heading for a Crash is great for everyone, especially in a world in which we are never unplugged and everyone is 'busy' Letting Go of Control discussing the idea of the connection between focus and control. What we focus on has control over us. Don't give up and Life is Hard are great chapters for those of us who need motivation and inspiration to get through life.

Overwhelmed is the kind of book that can change your life and perspective without you realizing it as you are reading it.

Check out Perry's blog post if you are dealing with anxiety: http://tiny.cc/pn4qfx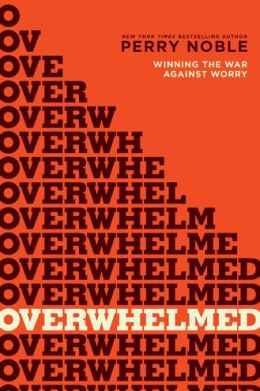 Stiletto Network by Pamela Ryckman
Stiletto Network gives an overview of networks of professional women. The women's group are mostly social, but end up helping each other professionally. The chapters go over the different networks and give detail on how they were formed, their composition. The groups are described partly by Pamela, but partly by the awesome women who created and are a part of them. One of my favorite parts of the book were the profiles of the women in the networks. Pamela describes the women before she writes their words. So not only does the reader walk away with more information about the networks, she walks away with more information abotu some strong, ambitious women.
'When you put a bunch of motivated ladies in the same room, exciting things happen'
Lean In by Sheryl Sandberg
There is some debate on this book and whether Sheryl is blaming women for our place in the workforce. After reading this book, I was empowered to take charge of my career and literally lean into my career. As someone who is early in my career, there were a few chapters and concepts that particularly stuck out to me:
Sit at the table: this chapter investigates how we as women underestimate ourselves and our abilities and how at times we act more as spectators than participants

Don't Leave before you Leave: this chapter discusses the concessions women make in anticipation for marriage and children

Make your partner a real partner: Sheryl discusses the importance of your mate in terms of your career
In my opinion, lean in has the ability to inspire and motivate women. Its worth the read.
I Shouldn't Be Telling You This by Kate White

I Shouldn't be Telling you this is a MUST read for 20 somethings. Kate, the former editor in chief of Cosmo, gives real career advice through lists (which I love) and fun stories. She really breaks it down tells her readers exactly how to go about her strategies. I have never highlighted and taken so many notes from a book before. The book is broken into 3 parts: 1. Success: Hot to get it; 2. Success: How to Go Big with It; 3. Success: How to Savor it.

There are SO many great things in the book that I struggle to find my few favorite chapters, but here are a few.
Success Style

ALWAYS ask for what you want

You, the brand

18 People Principles

How to Own A room

Advanced Networking
This book is great to have on your bookshelf and go to when you need guidance on a situation or when something has happened and you need to make some shifts.